No charge to attend Chris's seminar and is open to PPOC members and non-members.
From High End to High Volume
From High End to High Volume
Creating a recession-resistant photography business
When: Tuesday, April 19    8:00 – 10:00 PM
Where: PPOC Canadian Imaging Conference & Trade Show 2016
Coast Plaza Hotel and Conference Centre Calgary
1316 33 Street NE
Calgary, AB T2A 6B6
For two decades, Chris Stambaugh was a notable, high-end photographer in Edmonton, Alberta. He is a past president of the Professional Photographers of Canada, an award winner at the provincial and national level and a finalist for PPOC portrait photographer of the year. He ran a very successful portrait and wedding photography studio. His client list included many of Edmonton's social, business and political elite.
Then a perfect storm of misfortune hit with an economic downturn and a career-threatening eye injury. This combination of events nearly ended a wonderful career in photography. Let's face it, it's a tough way to make a living when you are nearly blind in your right eye. While considering the option of a mid-life career change, he decided instead to change his business model.
Very quickly, Chris built up a successful high volume business photographing pre-school, elementary and high school portraits as well as high school cap & gown graduation portraits. His studio is called Imagine That Photographics and it now also integrates this high volume photography with corporate photography, family portraiture and some wedding and commercial work.
Chris Stambaugh MPA, SPA, HLM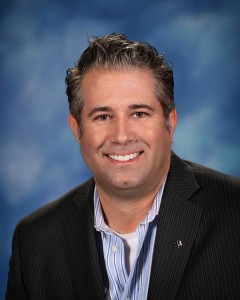 Chris Stambaugh has been a professional photographer for his entire adult life. He graduated from the NAIT photography program in 1989 and opened his own business in 1990 when he was just 19 years old. Over the years, he has earned a reputation as a leader in the photographic industry and as one of Edmonton top-ranked photographers.
Chris and his wife Holly welcomed their daughter Willow into the world on January 13th, 2008 forever changing their lives for the better. In 2011, their son Reid was born on May 4th, completing the family. They all live and work in a historic three-story home near downtown Edmonton.
Chris is an active volunteer in his industry and has served as president of the Alberta Professional Photographers association and has also served as Treasurer and President of the Professional Photographers of Canada.
Chris holds the Master of Photographic Arts designation and has earned 6 accreditations from the Professional Photographers of Canada. The PPOC has also awarded Chris with the designation "Service of Photographic Arts" and "Honorary Lifetime Member" for his hard work and dedication to his profession. He also has been awarded 4 bars to the Master of Photographic Arts in recognition of his ongoing excellence in his craft.
His work has been recognized worldwide and has won numerous awards for individual images both provincially and nationally. Most notably, he is a five-time finalist for Alberta Portrait Photographer of the year and was a finalist for Canadian Photographer of the Year. Twice he has won the award for "best wedding album" in Canada.
One of Chris' new passions is that of an educator. Chris currently teaches 10 different classes on a regular basis. His classes are run by Edmonton Public Schools – METRO Continuing Education, The Burwell School of Photography and NAIT Continuing Education. He recently has added a new class at the University of Alberta's Faculty of Extension.